SEO & Voice Search – Personal Assistant Search Optimization
October 16, 2017
Voice search is becoming more popular as more of our daily devices incorporate personal assistants. Apple – Siri, Amazon – Alexa, Google – Google Now, and Windows – Cortana all have integrated and incorporated digital personal assistants into their products.
Just this year Google launched Home, a voice-activated speaker powered by Google's personal assistant and the integration of Google Now into TVs. Amazon Echo, complete with Alexa, launched at the end of last year and became their most popular product during the holiday season. According to Microsoft, Windows' Cortana now has 133 million monthly users.
Google Trends via Search Engine Watch says Google voice search queries during 2016 were up 35 times compared to 2008.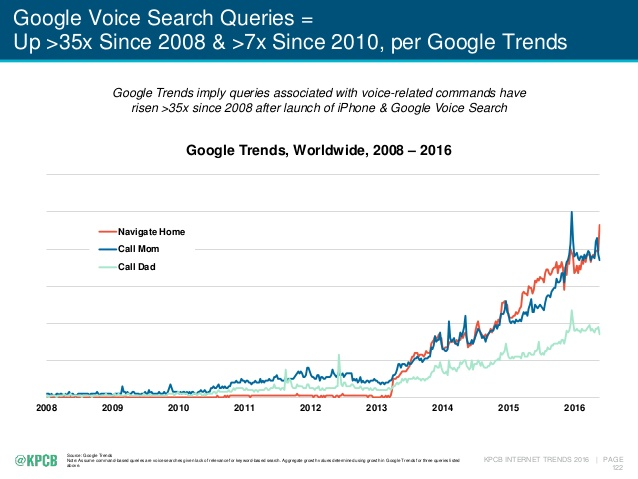 According to ComScore, 40% of adults now use voice searches once per day and 50 percent of all searches will be voice searches by 2020.
What we can do now to optimize for personal assistant searches:
Optimize Structured Data and Meta Data

Featured snippets, which pull information from your structured data and metadata, are widely used on Google voice search results. Leverage keywords and additional information within your structured data.

Ensure Your Business Has Consistent Directory Listings

Siri loves to pull information from OpenTable, CitySearch, Yelp, Yahoo! Local, ReserveTravel, Bing Answers and Amazon. Ensure all business names, address and phone numbers are accurate across all directories. Location based results will populate with your voice searches, so ensuring that you are listed on search engine maps will benefit your site.

Keywords – Long Tails and Intended Meaning

In addition to your target terms, also optimize for related terms and long tail keywords to match how users are voice searching. Leverage keywords by directly answering questions posed to digital personal assistants. Remember – who, what, when where, why and how?

Use Natural Language in Your Content

Keep keywords in mind, but become more conversational with your web content with a focus on natural language. Optimize your frequently asked questions page for queries your audience is posing to their personal assistants. Utilize landing pages tailored to specific question queries.

Capitalize On Reviews

Location, location. Results are becoming more focused on where the searcher is located, especially on mobile devices. Having reviews will help your rankings in local search packs, widely used in voice search results.
Digital personal assistants are only going to become more integrated with how we search. Start optimizing for personal assistants today with BrightHaus.